Critical-Thinking / Philosophy Program
Education is the heart of our work. The Critical-Thinking Program for teenagers is about changing culture
from the inside out. We are working towards this goal, not by teaching our students what to think,
but by teaching them how to think for themselves.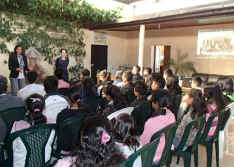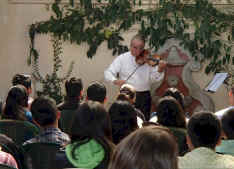 We were honored to host Amy Edelstein during the month of December. She came all the way to Guatemala to
support us in two very important events. Amy gave a full day workshop to our philosophy students on Morals,
Ethics, Spirit & Changing the World, and she also participated in our first annual Meditate to Educate fundraiser.
Mariano Castro, who has played with Andrea Bocelli and Frank Sinatra gave a recital to great applause!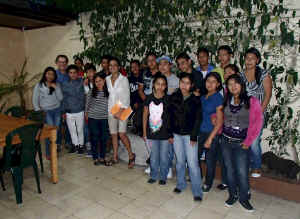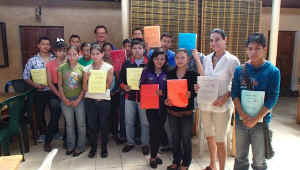 Our critical-thinking / philosophy education program for our teenagers grew from 24 at the beginning of
the year to 32 by the end, all by referral from our existing students. The photos above are the morning
and afternoon classes, which we held once per week, with their copy of Jeff Carreira's book, Philosophy
is not a Luxury, which we will be using as homework in our classes in 2014.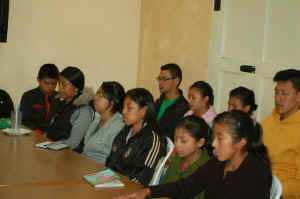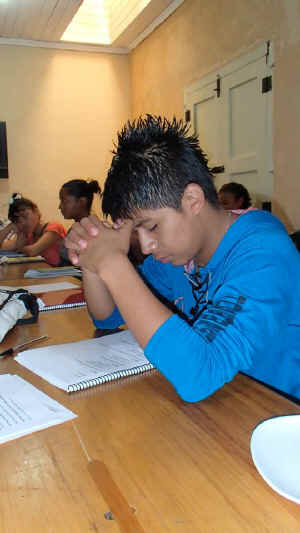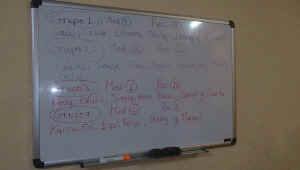 The class in meditation. Some of the students have 'meditation competitions' at home to see who can
sit the longest! Conal (middle photo) is busy studying during one of our classes. On the right above is
the schedule for this year's Meditate-to-Educate 12-hour event.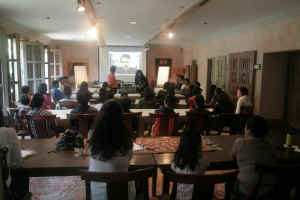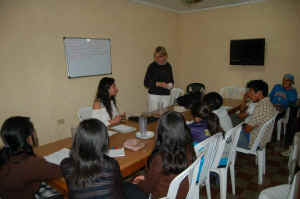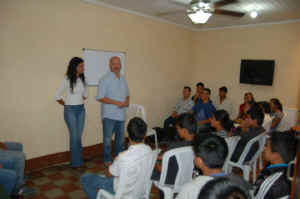 As part of this education program we invite speakers to share their wisdom with our students. This year
l. to r., we were honored to host spiritual teacher Andrew Cohen. We also had talks from Linda Shaw and
Andy Hopper, seen in the last two pictures being translated by Debora Prieto (co-founder and teacher).


Sponsorship Program
The backbone of our work is the Sponsorship Program. Sponsorship allows us to work with the children,
adolescents, teenagers and their families personally. There is so much behind each of these photos, and
there are so many of them from our work, so here we selected just a few of our favorites from 2013.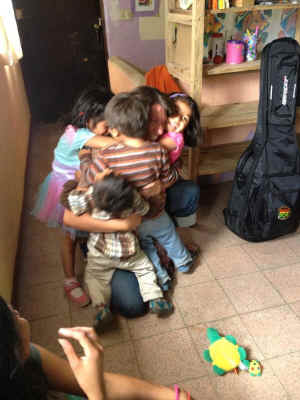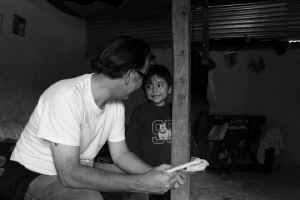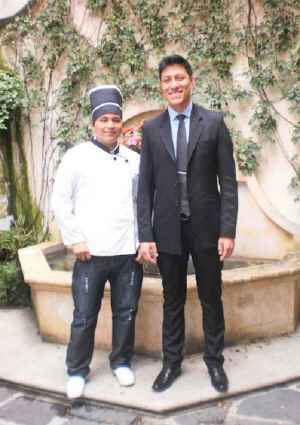 In this first photos, Liz Flinn, our Director of Programs, is seen with the kids from Panorama who are in
this program. Mick on a visit to the home of Jose, Saida and Freddy. Our first two college sponsorship
graduates; we are most proud of chef Miguel and accountant Esli (our thanks to Kate and Joanna!)(r).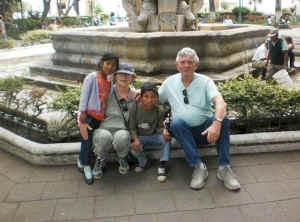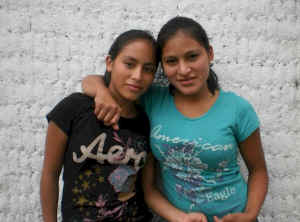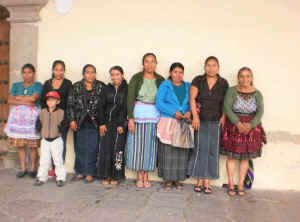 Bob and Shirley, from Canada, are seen here visiting their sponsored kids Keller and Grecie. Maria and
Carmen in the second image are involved in several classes and activities with us. The moms and grandma
from San Mateo visiting Antigua to meet with Liz and to collect their monthly nutrition baskets (r).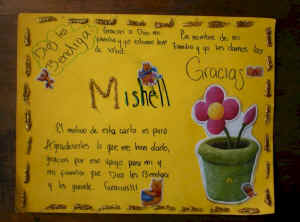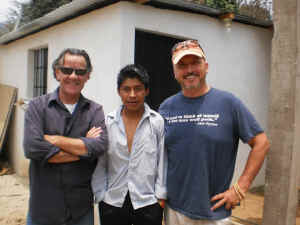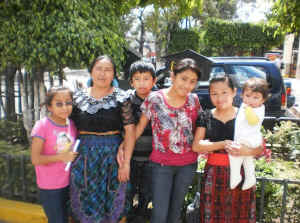 We encourage our sponsors to communicate with their kids, and vice versa. Here is a thank you note from
Keyla to her sponsors Michael and Michelle (Mishell!). Andy Hopper, with Mick visiting his sponsored
teen, Conal. In the last photo is our sponsored family from San Andres Ixapa on a visit to Antigua.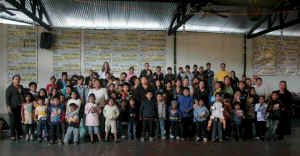 This is a group photo of all of the families that your
sponsorship and support is helping. The picture was
taken at our event over the holidays. Thank you!!







Solar Power / Water Filters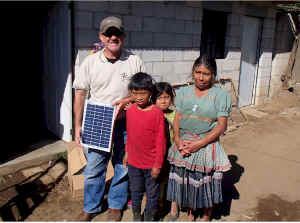 We provided 9 home solar installations and one at a school. Mick (l) with sponsored kids Keller,
Grecia, and their grandma, Dona Julia. The second photo is staff member, Reinhard, installing a home
solar unit in the Jocotenango slum overlooking the Spanish Colonial city of Antigua Guatemala.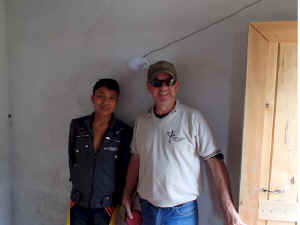 Mario, seen here with Mick, co-founder, and his brother, who are both in our sponsorship program also
received a solar unit to provide more light in their study area. On the right is a donated emergency
solar system which was provided to IHF by Todd of Waters of Marah, and Sunbeam Technologies.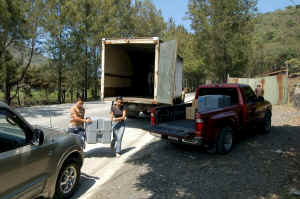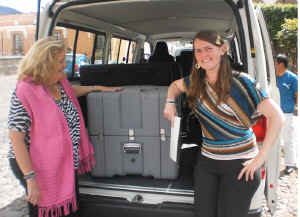 We also coordinated the importation and distribution of five large capacity water filters. On the right
is Carolyn Daly and a staff member from the non-profit charity, Milmilagos, who work with indigenous
communities by Lake Atitlan in Guatemala, accepting one of the large capacity water filter units.




Special Situation Responses
We also responded to situations included in our mission but outside of the scope of our programs.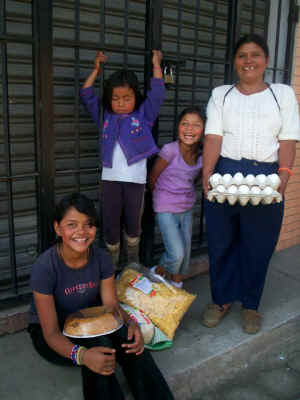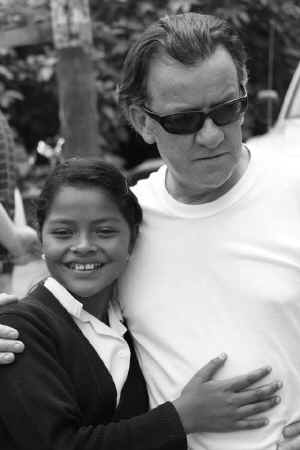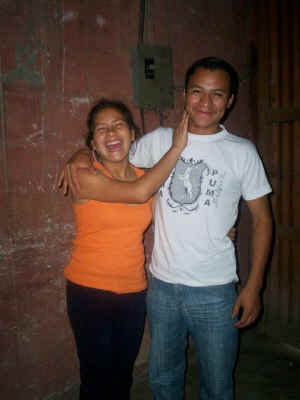 Angelita (l) has been in our program for 3 years. We did a special appeal this year for her
so that we could employ a tutor for her on Saturdays in 2014 to help her with some school
subjects with which she is having difficulty. Juan Carlos, see in the last photo on the right
is in his last year of studying to be a teacher (also sponsored by IHF), and he will be working
with Angelita, and two other girls from our program on this special project next year.




More projects and smiles!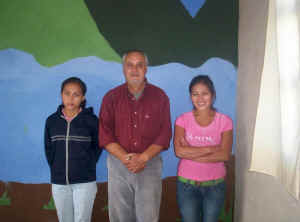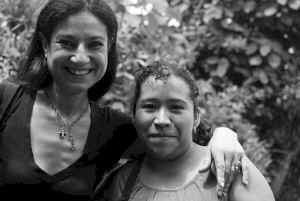 Arturo (middle) has been teaching English to Carmen and Maria, with special thanks to Charlie and Rachel.
Debora is seen in the second photo with Marisol, who is our Community Liaison for Jocotenango.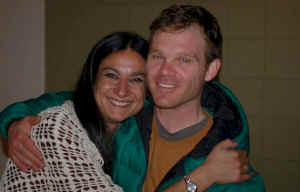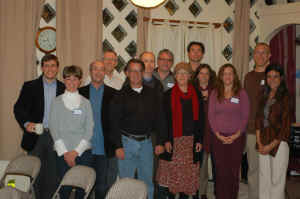 Jose is Marisol's five year old son, seen here sitting in mediation (which she taught him) for twenty
minutes - our youngest meditator. Debora seen with Mikey at the LA fundraiser and with Terry Patten
and the team from Bay Area Integral, in Berkeley CA, During our fundraiser in June.




Questions, comments, suggestions?
Tell us what you think, send us your questions, comments and suggestions, we'd love to hear from you.
Visit this page to write us: http://www.integralheartfoundation.org/ihf_contact.htm